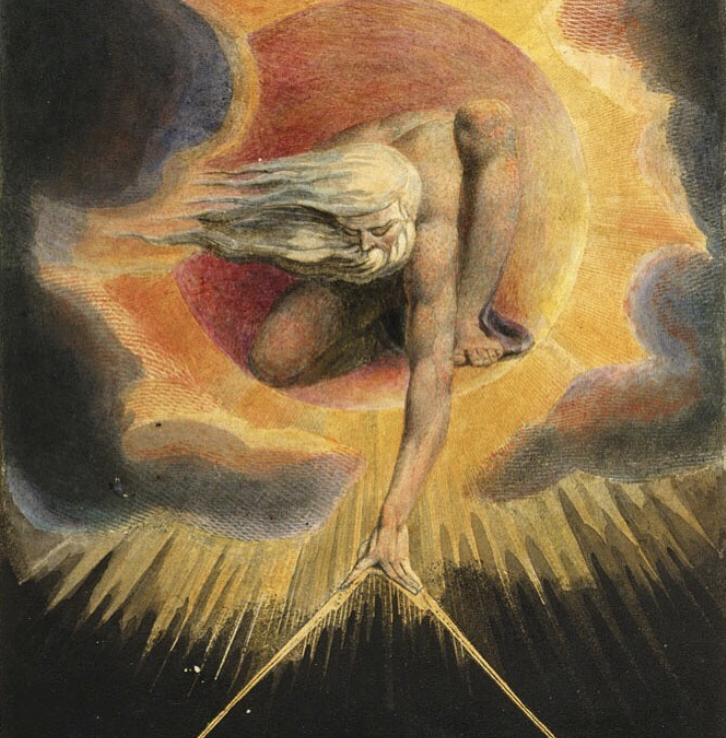 "Will transformation. O be ravenous for the fire
in which a thing boastful with change forever eludes you;
that designing Spirit which plots earth's flourishes, —
it loves most in the figure's élan the moment of turning.
What shackles itself in survival already is rigidity;
does it feel itself safe in the shelter of nondescript gray?
Beware, from afar the hardest is warning the hard.
And woe–: an absent hammer is lifting!
Whoever pours forth as wellspring, Recognition greets;
and she guides him enthralled through the serene Creation
that often ends with beginning and in ending begins. 
Every happy space through which they walk marveling
is child or grandchild of Separation. And the transformed Daphne,
feeling so laurel-like, wants you to change into wind."
RM Rilke: Sonnets to Orpheus, Part II, 12 
+ W. Blake: The Ancient of Days setting a Compass to the Earth (1794)